Post by King_Gamecock on Mar 26, 2022 2:33:29 GMT -6
We recently had the opportunity to talk with Jacksonville State University Director of Athletics Greg Seitz, and ask him some questions from fans and members of the WAJS forum.
We Are Jax State Fan Guided Interview: 10 Questions with A.D. Greg Seitz.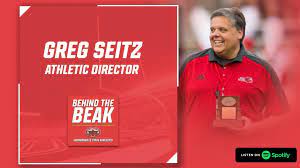 WAJS:
How did we get Coach Rodriguez? Or more seriously, can you tell us about the process that led to him being hired?
Greg Seitz:
When we began our search for a new coach, we were looking for a coach that had a winning record and knows what it takes to be successful on the field, and in the classroom. We were looking for someone with head coaching experience, someone who could recruit top talent, someone who has coached at the highest level, someone who could relate to our community and someone who has a desire and passion for making a difference in the lives of our student-athletes. We had over 100 applicants, but the more that I talked with Coach Rod, the more impressed I became with him and his passion for wanting to become our head coach. He is a winner and he has proven that at every stop he has made in his 30-plus years of college coaching experience. He certainly has the resume and checked all of the boxes in what Jacksonville State was looking for as our next coach.
WAJS:
What is the new definition of success for JSU Football with the move to FBS?
GS:
The move to FBS and Conference USA is certainly an historic milestone in our proud athletic history. Our expectations have not changed as we move to FBS. We want to put a competitive product on the field, who will represent JSU with class and do things the right way. I can't wait until we earn our first bowl berth at the FBS level!
WAJS:
Can you share some details regarding how JSU is planning to financially support the move to the FBS?
GS:
It's no secret that it's going to cost more money to move to FBS, but there is also a large increase in the revenue that is generated in the level. The conference payout will be significantly more than what we have received at the FCS level. Another increase will be our football game guarantees. For example, JSU received $400,000 for our win at Florida State this past season, while a few weeks later, Florida State paid UMASS $1.6 million for a game. There is additional money from the College Football Playoffs that are distributed to each conference and member schools, which is something FCS schools don't get to share. These are just a few of the additional revenue streams that will help offset the additional costs.
WAJS:
What lessons has JSU learned from other institutions' successes and failures regarding the transition to FBS Football?
GS:
This is a great question, and I think JSU will benefit from previous schools that have recently made the transition. We want to be competitive as soon as possible at the FBS level, so we will begin to increase our scholarship limit for football this fall, so that by the time we are a full FBS member, we will be at the maximum scholarships so we are competitive.
WAJS:
Any news on renewing the home and home rivalry with Troy State? Are there any other regional non-conference teams you can comment on talks with regarding future games? (such as UAB, USA, Ga. State, Southern Miss, etc.) With several of JSU's historical rivals in other FBS conferences, how important is it to add (or establish) a rival within Conference USA?
GS:
I can tell you that scheduling should be much easier with our move to FBS. It certainly does allow us the opportunity to play more regional schools, and we have had discussions and working on dates with several of the schools that you have mentioned. Our fans will certainly recognize the teams on our future schedules and it should be exciting as we build out our schedule over the next 8-10 years.
WAJS:
With the inability to compete for a championship in 2022, are there plans for events or activities to drive interest? What sort of future promotion (regional and national) is planned for JSU?
GS:
With our move to FBS and the hiring of Coach Rodriguez, we have already seen a large increase in our season ticket sales for 2022. Over the next several months, our fans should see an increase in our marketing efforts, as well as content on our website and social media.
WAJS:
What is the schedule for the stadium renovation? When will the sight-lines be improved? Will the vinyl be replaced with real brick?
GS:
We are in the final designs of the new stadium, and the entire north side will be demolished and removed. This will allow us to give us some additional space on our sidelines, which will be very important with the increased sideline personnel at the FBS level. The renovations will also include 16 new suites on the north side of the stadium, additional premium seating opportunities and fan amenities both on the north side and west endzone that will enhance our game day experience for our fans. We do plan on replacing the vinyl wrap that we've used for the last several years on the field.
WAJS:
Are we reducing capacity as we are moving to FBS? Is there going to be a focus on gameday experience with the upgrades? If so, are there any specifics you can share?

GS:
We will be reducing the seating on the north side of the stadium with this project, and we are still working on the final seat count. We will be adding additional seats in the west endzone as we want to keep the capacity at 20,000 or just above. As I mentioned above, premium seating and fan amenities are a priority in the renovation to allow our fans a great experience when they attend a JSU home game.
WAJS:
With increased television exposure from our move to FBS, what steps are being taken to further improve our broadcast production capabilities and quality?
GS:
We have made significant investments in our broadcast productions over the last several years. We will continue to upgrade our equipment and staff to allow us to expand our broadcasts. Obviously, with the renovations, we will have new camera locations and broadcast booths.
WAJS:
What sort of questions do you ask when interviewing a prospective coach (in any sport)?
GS:
When I'm interviewing for any opening coaching position, one of my priorities is to see how I think the candidate would fit at Jacksonville State. I want to know their plans on running the program, how they would interact with our fans, alums, campus community, faculty, staff, donors and friends of the University. I also want to know their vision for our program and what are their own expectations. I want to know who they would consider bringing with them on their staff, what is their recruiting philosophy, how they would use the transfer portal, their general coaching philosophy, who are their mentors or people they seek advice from. These answers often allow me to get a good feel about their personality and how I think they would fit within our athletic department and University.

WAJS:
Thank you so much for your time, Greg.
GS:
Let me know if you have any questions or need anything else.
--WAJS Staff

Register and discuss this and any other JSU related topic on the
WAJS forums
!
-We are Jax State Staff